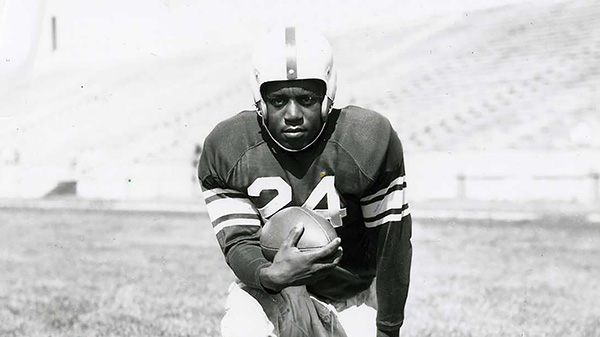 TODAY'S SPORTS EXTRA
Switzer's Legacy Celebrated by All
By D. Scott Fritchen
Thirty-three flower arrangements lined the stairs below the pulpit. Three wrought-iron chandeliers glowed above a hushed sanctuary. Hundreds of gathers sat upon red cushions on old wood pews. Others dotted the balcony. The First United Methodist Church of Manhattan, Kansas, featured several stained-glass windows. Sunlight made them glow. Inside, Pastor David Helms opened the sermon of celebration in a purple suit. It was a fitting touch to a memorable Friday.
"Knowing Veryl Switzer, like I know him, I guessed that I had better put on my purple," he said.
The day that began with a two-hour morning service in Manhattan concluded with an evening graveside service at Nicodemus Cemetery in Nicodemus, Kansas. Long before dawn, memories began to stir, and presumably, the best stories about Veryl "Joe" Allen Switzer, Sr., flowed into early Saturday morning like the South Fork Solomon River after a summer rain.
The front of Switzer's homegoing celebration program read:
In the middle of the homegoing celebration program was the familiar smiling face thousands knew or saw — how the contagious smile caused the moustache to raise like drapes, how the eyes, alive and always smiling, seemed to find greatness in others that perhaps they hadn't yet seen in themselves.
For 89 years, Veryl Switzer had seen so much.
The youngest of six children to Frederick L. Switzer and Ora T. (Willington) Switzer, Veryl saw early morning chores on a rural farm just outside of Nicodemus before attending school inside a one-room schoolhouse in town. He saw hot summers and baseball and played against some Negro League teams. He saw 4H medals and a love for farming on acres of land that he'd one day own. Five miles to the west of Nicodemus, he saw success in football, baseball, and track at Bogue High School. Three hours west, he saw rushing records tumble while he became the first African American scholarship football player ever to graduate from Kansas State, thus inspiring others to follow in his mighty footsteps in Manhattan.
Eventually, Switzer enjoyed a terrific two years as a Green Bay Packer. Head coach Lisle Blackbourn took him with the fourth overall pick in the 1954 NFL Draft. No K-State player has ever been selected higher in an NFL Draft.
"This man was so modest, so humble," Veryl Switzer, Jr., said while standing at the pulpit at the Manhattan service. "I did not realize this man played professional football. I was in sixth grade, and we were on the playground doing our thing, and my cousin said, 'Hey, did you know your dad played professional football?' I said, 'What?' He said, 'Your dad played for the Green Bay Packers.' I got home that night, and said, 'Dad, did you play football for the Green Bay Packers?' He said, 'Yeah, I wasn't supposed to tell you.'
"He's one of the toughest men I've ever met in my entire life and the most solid person I've ever known. He will be missed. Let's celebrate his life. He was a Wildcat, true and true."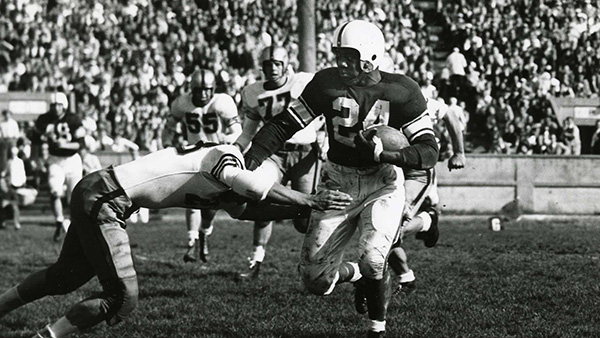 He had the innate talent of either gliding or rumbling across the football field. He had the strength to stiff-arm defenders, and he wasn't afraid to run it up the middle. He accepted a K-State scholarship in 1950 and earned All-America honors in 1951, 1952 and 1953 in football, and earned the Big Seven Conference indoor long jump title in 1952. He led K-State in rushing each of his final two seasons and ranks top 10 all-time in five punt-return categories 70 years later.
In 1953, K-State voted Switzer its most inspirational player.
Dick Towers can attest to it. Towers was Switzer's roommate for two years in the athletic dormitory at East Stadium. The 91-year-old Towers, who later served as K-State athletic director, still resides in Manhattan. In October, he explained that Switzer played at right halfback while he played at left halfback. Both also played at defensive back. Towers said Switzer was "the hardest-hitting defensive back in the country."
"Veryl was a quiet person, but he was always someone you could depend on," Towers said. "Veryl was such a tough player. He was a leader for us, a really good person, and friend."
Towers added: "Anything we K-Staters can do to honor Veryl, we need to do it."
Today, Switzer is honored on the west concourse at Bill Snyder Family Stadium alongside Harold Robinson, the first African American scholarship player in Big Seven Conference history; Hoyt Givens, the first African American non-scholarship player in Big Six Conference history; and Ray Romero, one of the first Hispanics to play in the NFL.
"Veryl worked so hard to be great," nephew Marvin Switzer said in October. "It's hard to explain that drive that he had as a young man to be great and work with integrity and honor. There were some struggles in the early 1950s but that's a trailblazer; you're setting a trail and it's difficult because you don't know the track, the obstacles, and must learn along the way as you make this trail for others to follow."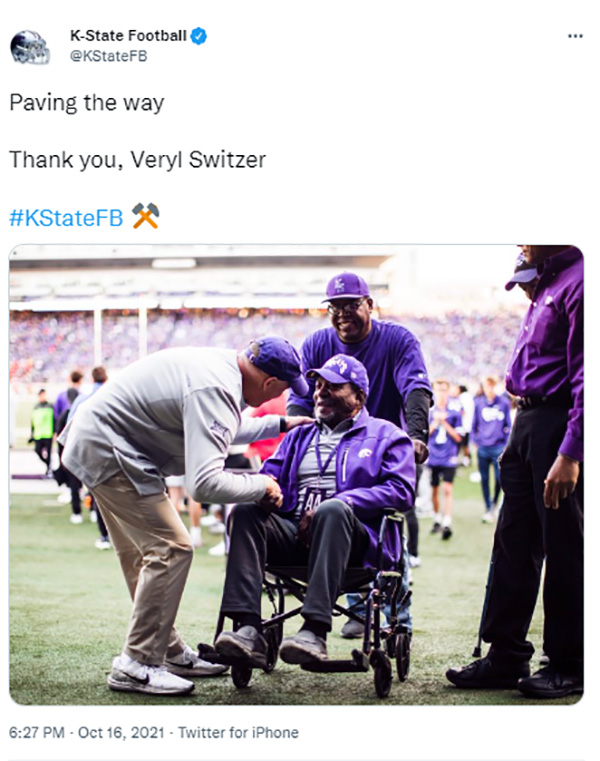 Switzer graduated as a Second Lieutenant in the Air Force ROTC and fulfilled a two-year commitment as a First Lieutenant after two years with the Packers. While playing the NFL, he married his college sweetheart, Fern N. Stalnaker, who he'd met on a blind date at Pittsburg State. They were married on December 26, 1956, by her father. After Switzer's football career, which included stints in the Canadian Football League, they lived in Topeka, and then Veryl and Fern moved to Chicago, Illinois, and both pursued careers in the Chicago Public School System. Veryl taught physical education before he assumed an administrative role. He was privileged to drive a bus of high school students to the March on Washington in August 1963.
In 1969, Switzer began his K-State career, first as an assistant coach, then in an administrative capacity. He developed K-State's first university-wide student minority program. He wrote the original grant proposal and was awarded one of the nation's comprehensive federal programs for minority student support, which went to educational supportive services and talent search. Switzer, who pledged Kappa Alpha Psi, Beta Psi Chapter as an undergraduate, helped re-establish the chapter. As the chapter advisor, he helped Beta Psi become the first Black Greek organization on campus to own a house.
Many K-State programs, some that are still in motion today, were developed under Switzer's leadership. That includes Ebony Theater, United Black Voices, Hispanic advocacy groups and Black Student Union. Switzer's energy and passion for students led to increased student enrollment and graduation rates, thus attracting more minority faculty and staff.
"The thing about dad was when he came to K-State, he saw a boy and said, 'I know you.' The boy said, 'How do you know me?' He said, 'I knew you from Chicago,'" said Calvin Switzer, Veryl's youngest son. "I have a hard time remembering names and things, but with dad, the reason why he remembered you was because you mattered to him. And that's what it is — you mattered to him."
Calvin, adoringly nicknamed "Kool-Aid" by his K-State teammates because of his impressive size as an offensive guard, graduated in 1984. It was during the annual K-State alumni football game that Calvin was gifted "the greatest moment with my dad." Veryl decided to dress out for the alumni game.
"I'm in the huddle, and my dad comes in, and there's a good ovation, and so there's my dad, and I'm playing with my father," Calvin said. "I was an offensive lineman. I said, 'We've got to make this hole big.' You'd think that the 1985 K-State team would recognize a legend and let him score a touchdown. They didn't. They tackled him. He was just sitting back, and he was just smiling."
Switzer further impacted lives when he became Associate Athletics Director for the K-State Athletic Department in 1988. He also served many years on the USD 383 school board and became the first African American to be named school board president. He was a longtime member of the Rotary and worked with the Kansas Children league and various organizations on and off campus.
"One thing about my dad is he knew how to talk to you," said Teresa Switzer, Veryl's only daughter. "When he had a conversation, he was a master of that conversation. He could talk to a child, a teenager, an adult, the same way, and they understood and trusted them. You didn't know my dad until you saw him talk to kids."
Fern passed away in 1998. After 30 years of service, Switzer retired from K-State in 1999.
Some retirees receive a watch.
Switzer received a Cadillac.
And he kept going. He helped initiate the Earl Woods First Tee Program and served as its first executive director.
In 1990, he was a charter member of the K-State Athletics Hall of Fame. He's also a member of K-State football's Ring of Honor and the Kansas Sports Hall of Fame, and he is listed as one of the Top 100 Kansas athletes of the 20th century.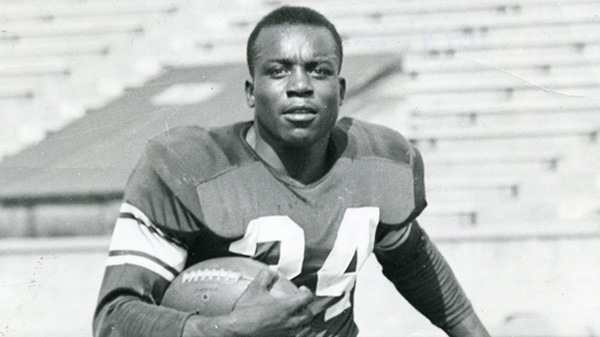 The morning service at the First United Methodist Church, which featured so many nieces and nephews, grandnieces and grandnephews, and cousins, drew out like a family reunion you never wanted to end. So many times, "celebration of life" becomes overused, but it couldn't be used enough on Friday. It truly was a celebration.
Senior Pastor Delmar A. White opened the service by reading Psalm 46. Kappa Alpha Psi held a special service. Billy D. Hill sang "If I Could Help Somebody." The Union Baptist Church of Cincinnati announced a resolution of love and respect for Switzer. Former Associate Provost of Diversity at K-State Dr. Myra Gordon called Switzer "a K-State great." But it all trailed back to Switzer's lifelong passion and loyalty to his hometown of Nicodemus, the small town three hours west of Manhattan.
Founded in 1877 as a refuge for former slaves from the south, Nicodemus was the first black community west of the Mississippi River and is the only predominately black community west of the Mississippi River that remains a living community today. Once, Nicodemus had a population of approximately 700 people. By 2006, that number stood at 27, including Switzer's 106-year-old mother, Ora. Today, there are approximately 30 people living in the community.
Nicodemus was hometown to six NFL players — Veryl and Marvin Switzer, Kevin and Gerald Wilhite, and Ron and Gale Sayers.
The all-black Graham County community was designated as a National Historic Site in 1996 at the urging of Switzer. Over the years, Switzer spent much of his time tending crops there on his 840-acre farmland, which he acquired piece by piece.
"He wanted to make sure Nicodemus stood there forever," said Dr. Johnella Holmes, executive director of the Kansas Black Farmers Association and Nicodemus Educational Camps.
"To the Nicodemus community, he was a hero, and an example to emulate and follow," said Angela Bates, executive director of Nicodemus Historical Society. "Many can talk about his professional and athletic accomplishments, but we at the Nicodemus Historical Society know that he was the root of historical foundation of Nicodemus."
Bates announced the formation of a Nicodemus Preservation Scholarship to assist students and others who will work to preserve the efforts of Switzer's legacy.
The morning service concluded with Dr. Ethel Lilly Trawick, Switzer's first cousin, belting "How Great Thou Art," and Pastor David Helms offered the sermon of celebration. Helms also spoke at services for Switzer's mother and father.
"We're here today," Helms concluded, "to celebrate the life of a man who played a good game."
Friday offered a parting glimpse of a star that shone brighter than any.
"He will be missed," Calvin said, "but man, what a legacy."